Login Changed
At the end of July, the login screen was simplified (see screenshot to the right). Because of the change to the underlying technology, some Partners will need to reset their passwords.
Otherwise, login accounts stay the same. You are still using the same email address to identify yourself. MITRE users are prompted to log in with their MITRE domain password.
If you need to reset your password, click on "Need help signing in?" at the login prompt. You will see a "Forgot password?" link there that will walk you through the reset process (alternatively, follow this direct link to reset your password).
As always, don't hesitate to contact mpnsupport@mitre.org if you run into any difficulties.
If you normally use a DOD Common Access Card (CAC) to log in, please continue reading below.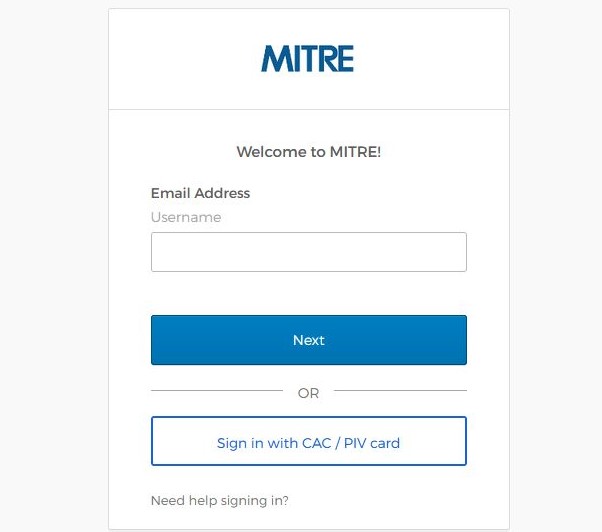 Screenshot of the updated login screen
CAC Login Changed
You are now be able to simply press the "Sign in with CAC / PIV card" button to log in (we aim to support other Personal Identity Verification, or "PIV", options besides CAC in the future).
The transition is seamless for you if the email address that you have registered with MITRE matches your CAC. If that's not the case, simply add your CAC email to your account.
Note that now you have to pick between using a CAC or a password to log in . If you are no longer using your CAC, simply reset your password to designate it as your primary login method.